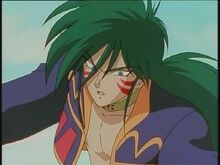 Pluie was the first of Queen Reine Devilla's henchman in the series. He appears in episodes 1-16 in the anime. He creates a myriad of schemes to destroy the Love Wave as well as the Love Angels (Ai Tenshi). He vows vengeance upon the victors at the conclusion of every battle.
Jama-P was initially his Devil pet, but was discarded for his constant failures. Pluie was later discarded by Queen Reine Devilla and willingly sacrificed himself after being touched by the love wave.
He briefly recruited the Water Devil, Aquelda, whom he saved from Reine Devilla's wrath. It was possible that Pluie and Aquelda were falling in love with each other.
Pluie makes several cameo and special appearances in the Wedding Peach special episodes.